Happy Star Wars Day! I could not let this day go by without a fun bento lunch. My kids have really gotten into Star Wars this year. We now own all, yes all, of the Star Wars films and we have watched each DVD several times. So, here's lunch for today :) May the 4th be with you............
In this lunch: grapes with a lightsaber, PB&J Darth Vader sandwich, baby carrots decorated with
C3PO baran
, grape tomatoes, ranch dressing in the
storm trooper container
, and a yogurt covered star cookie.
Items used today: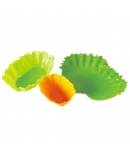 For more bento-style lunch ideas check out my book Happy Bento!