Welcome to the Bento Bloggers & Friends Frightful Fall Blog Hop. Click on the button near the end of this post to follow the hop and see every one's terrifyingly frightful lunches! Our lunch is what I like to call, "a yummy mummy lunch".
Top box: Baby carrots, black plum wedges, soft pretzel pieces, pretzel salt with black peppercorn eyes, and baby heirloom tomatoes. The little mummy in the tomatoes is from a set of Halloween wood clips I found at Michaels last year.
Bottom box: Mummy pretzels (pretzel pieces wrapped up in string cheese), ham, strawberry, and cucumbers.
You could definitely use a hot dog instead of pretzel pieces to make these mummies. One of these mummies would also make a good baby Jesus for a Christmas bento lunch...hint, hint you may see this again :)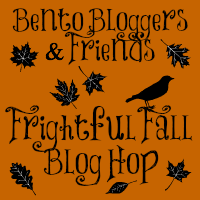 Now, click the button above and hop on over to
Licious Lunches
and see another frightening fall lunch.
Same or similar items used in this lunch (these are affiliate links):