Bento & Co is just wrapping up their
2013 international bento contest
. This year's challenge was to make a pasta bento. A few of the Bento Bloggers & Friends entered the contest. Sadly, none of us made the cut to be finalists. As a consolation, we are doing a blog hop and sharing all of our entries.
Left Box: A mix of Italian pasta with pasta sauce on the top portion. The doll's face is a lasagna noodle cut into a circle. The face details include: black olive hair, black bean eyes, and a red pepper mouth. Small carrot star bursts are scattered on the lower portion of the doll for added decoration.
Right Box: Strawberries, mango, carrots, cucumbers, yellow pepper rings, yellow sunburst tomatoes. The face details include: cucumber hair, raisin eyes, and carrot mouth.
I packed extra sauce in a cup and decorated with a matryoshka doll pick. (see below)
What I used to make this bento.
Dog snack cup. Dollar Tree
Paring knife.
Same or similar items found here: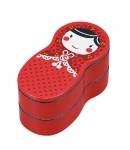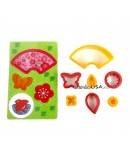 This post is linked up at: