Thanksgiving is sneaking up on me this year. I had a little bit of extra time this morning to prepare this cute little Pilgrim hat lunch since school was on a two hour delay this morning.
In this PlanetBox: red grapes, orange wedges, ranch dressing in the small green container, PB&J pilgrim hat (details below), baby carrots, and a fig cookie cut into a turkey shape.
The Pilgrim hat is cut out of pumpernickel break with a white bread band that is attached to the top pumpernickel bread with peanut butter. The buckle is cut out of yellow cheese.
Items used today: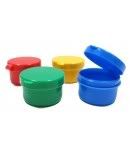 For more bento-style lunch ideas check out my book Happy Bento!