Only four more sleeps till Halloween. My kids are getting excited. Witch theme lunches are next up in our lunchboxes!
In this bento: jack-o-lantern cookies, pomegranate, green grapes, cheese crackers, flying with shaped salami sandwich, and orange pepper rings in the cauldron.
In this bento: toasted mini bagel, pepperoni, jack-o-lantern cookie, shredded cheese, spaghetti sauce, and green grapes. Yet another "make your own" pizza lunch for my daughter. This one with a little Halloween spin.
The little vintage witch cupcake topper came from
Mothergoose Collectibles shop on eBay
.
Items used today: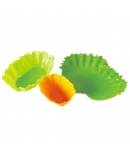 For more bento-style lunch ideas check out my book Happy Bento!