Boo-tiful ghostly lunches
Time for some full-blown Halloween themed bento lunches. We are kicking off with two ghost lunches. The first one is packed up in a new bento box, the
Thinksport GO2
lunchbox - a stainless steel lunchbox with a plastic leak-proof lid.
In this bento: PB&J ghost sandwich with
candy eyes
, maple yogurt with
Halloween sprinkles
, and pear slices. I found the ghost cutter in the Halloween section of Walmart. The set comes with the ghost plus smaller cutters for dressing him up - mouth, eyes, mustache, bow, etc.
In this bento: meatballs cantaloupe balls,
pumpkin cookies
, big Cheez-its, and white baby carrots. This lunch is packed in a two tier bento box that I picked up at Target a couple years ago.
Items used today: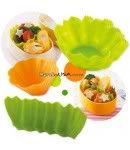 For more bento-style lunch ideas check out my book Happy Bento!