Two more spooky Halloween lunches. Today, Frankenstein and bone sandwich bentos were served.
In this bento: baby carrots, green grapes, grape tomatoes, cheese crackers under the sandwich, and a ham & cheese Frankenstein sandwich.
In this bento: Skull & bone shaped PB&J sandwiches, green grapes, Babybel cheese, jack-o-lantern cookies, grape tomatoes, and ranch dressing.
Items used today: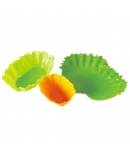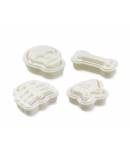 For more bento-style lunch ideas check out my book Happy Bento!