Another burrito lunch for my girl. All the cuteness comes from bento props :) I have found myself in a little bit of a rut so far this school year. I have packed many burritos for my daughter and many sandwiches for my son. Hoping to get out of my rut soon and pack some lunches featuring other food items. But today, this will have to do!
In this bento: bean, rice, & cheese burrito, green grapes, Cheez-Its, and crinkle cut cucumbers. The burrito is wrapped closed with a
wiener dog cable tie
.
Items used today: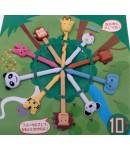 For more bento-style lunch ideas check out my book Happy Bento!