My daughter has been interested lately in crafting her own bento. Friday mornings work best because there is a little extra time in the morning since I do not have to go to work that day. She discovered a new tool in one of my boxes of bento tools. What she found was a little quail egg cutter. She wanted to use it therefore quail egg lunches were made. She made her own (second photo) and little brother followed suit wanting quail eggs for lunch so I made him one (first photo).
In this bento: Quail eggs, rainbow baby carrots, green grapes, Cheez-Its, and ranch dressing in the mushroom container.
In this bento: Quail eggs, sweet pepper rings, fresh pineapple chunks, and crinkle cut cucumber slices. The
quail egg cutter
has 4 different cutout options - heart, star, flower, and zig zag. My daughter wanted hearts but also wanted to try out the zig zag feature since that looked like more fun :) The egg shell cup is actually an
egg poacher
that I bought from World Market.
The quail eggs I used are from a can. I live in a small town and do not have access to exotic ingredients. However, you can be assured when I travel I always stop at an Asian grocery store and load up on fun non-perishable items that can be used in bentos. Sometimes I see fresh quail eggs but I have never bought them because they will probably spoil before I get them home. The best option for us is the
canned version
.
Items used today: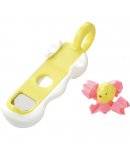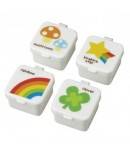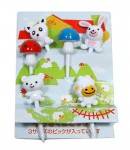 For more bento-style lunch ideas check out my book Happy Bento!