Tomorrow is
Talk Like A Pirate Day
! I wanted to make fun pirate themed lunches for my kids today. I procrastinated and did not make lunches last night before I went to bed, but I managed to pull myself out of bed this morning and put these together :) I came across some
Jake and the Neverland Pirates cupcake rings
on clearance yesterday at a grocery store that is going out of business in my town. I bought them, so I decided on
Jake and the Neverland Pirates
themed bentos for this year's Talk Like A Pirate Day. Poor Jake did not make it into the bentos though.
In this bento: Ham, salami, and marbled cheese sandwich. The sandwich is adorned with Captain Hook. He is made from ham, salami, marbled cheese, swiss cheese, olives, and a hook food pick. Packed in the side compartments are green grapes decorated with a Cubby cupcake ring, grape tomatoes, and
chocolate covered sunflower seeds
in the treasure chest.
In this bento: Bean, rice, & cheese burrito - I was running short on time so I quickly sketched Skully onto a burrito with
food coloring markers
, green grapes decorated with an Izzy cupcake ring, rainbow baby carrots, and chocolate covered sunflower seeds in the treasure chest.
Items used today: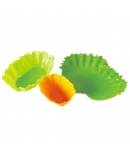 For more bento-style lunch ideas check out my book Happy Bento!