The end of summer is upon us. Wednesday officially marks the first day of fall. We bid farewell to the long sunny days of summer with one last summery warm bento lunch.
In this bento: baby carrots, grape tomatoes, red cherries, blueberries, cheese crackers, and a peanut butter & jelly pocket sun sandwich with raisin smile & eyes.
Items used today: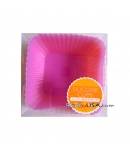 For more bento-style lunch ideas check out my book Happy Bento!