Thai food is one of my family's favorite cuisines. We frequent the Thai food restaurants in our area. When the opportunity to review a Thai food cookbook presented itself, I jumped at the chance.
Thai Food Made Easy
by June Williamson offers several Thai dish recipes with easy to follow directions. Appetizers, salads, curries, rice dishes, noodle dishes, and desserts are all included in the book. While flipping through the book I stumbled across the recipe for "Gaeng Daeng". This dish looked and sounded a lot like one of my favorite dishes called "Evil Jungle Princess" at our local Thai restaurant.
Gaeng Daeng Recipe
(posted with permission from Cedar Fort Publishing)
Ingredients:
1 lb. of chicken breast
1 Tbsp. vegetable oil
2-4 Tbsp of red curry paste
1 cup bamboo shoots
1 cup green beans
1 can (13.5 oz.) coconut milk
1 cup chicken broth
1 tsp. salt
2 tsp. fish sauce
1 tsp. sugar
2 cans of drained straw mushrooms (I added this to the recipe)
White rice
Directions:
Brown chicken in oil in a soup pot.
Add curry paste and stir constantly for 30 seconds.
Add bamboo shoots and green beans. Cook for one minute.
Stir in coconut milk and chicken broth.
Add salt, fish sauce, and sugar.
Cover and let simmer for 5-10 minutes.
Serve over steamed rice.
Luckily, I was able to buy all the ingredients needed for this recipe at the regular grocery store since there are no Asian stores in my town. The recipe was easy to follow, quick to make, and very tasty! I foresee Thai food being added to our meal plan rotation now that I have this cookbook.
Dinner leftovers were perfect for my work lunch the following day.
In this lunch: Leftover Gaeng Daeng, red cherries, and white rice decorated with carrot flowers & cilantro. To make the flower carrots I used my
v-blade carving tool
to cut 5 notches into the side of the baby carrot. Then, turn the carrot on it's side and slice the carrot. Now you have cute little carrot flowers to accent your meal. I purposefully tucked the cherries inside a
silicone cup
for easy removal of them before microwaving my lunch at work.
Items used today: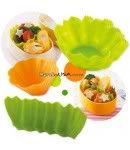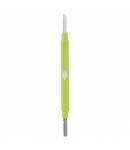 Disclosure - I received a free copy of this book for being part of the Thai Food Made Easy book blog tour.