"You know Dasher and Dancer
And Prancer and Vixen,
Comet and Cupid
And Donner and Blitzen.
But do you recall
The most famous reindeer of all?"
In this bento: Ham & cheese reindeer sandwich, holiday shapes goldfish, grape tomatoes in a present shaped silicone cup, and green grapes. In the background is one of our
Holiday Funkins
.
Items used today: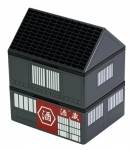 Nor
dicWare plunger Christmas cookie cutters - ebay
Christmas stocking food picks - ebay
Brownie kit with present baking cups - ebay