Leftover pizza for this Friday's bento lunch with some fun ladybugs thrown in for the cute factor.
In this bento: Mushroom pizza, green grapes, and snap peas in the ladybug cup.
The ladybug cup is sold in the UK and Australia. It was sent to me by a fellow bento blogger friend. Here is a
product link
so you can see them and if you live in Australia you can buy them through that website.
Items used today: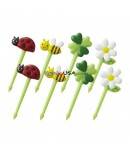 Link up your lunches that use leftovers. For more information about this linky party click
here
.
*Due to recent busyness with life and a decrease in participation, I will be retiring the Leftovers on Fridays linky.*