ECOluncbox
has recently added a new line called
Blue Water Bento
. The first product introduced from this line is the
Splash Box
. The Splash Box is sold by itself or in a
kit
that includes the lunch bag and a bamboo spork.
This bento box is a stainless steel container with a leak proof silicone lid. The lid is bright blue and has a fun wave design on it. When my daughter first opened the box, she exclaimed "Mom it is so easy to open!" Very true. The flexibility of the silicone lid makes this bento box super easy for kids of all ages to open. This box will be used frequently for my 3 year old who will be starting preschool this fall because of this easy open feature. The box measures 6.5 x 4.75 x 2 inches deep. It is dishwasher safe and designed to stack together for easy storage.
The first thing I had read about this box is that it is leak proof. I wanted to test this. Nothing is more runny than water, so I filled my box up half way with water. I sealed the silicone lid by pressing down on all edges making sure it was snapped on tight. Then, I inverted the box and shook it continuously for a couple of minutes. Not one drop leaked out! Test passed :) However, if you pack foods like yogurt or applesauce inside this box be sure your child knows how to seal it properly or can ask an adult for help, because if they don't finish all of the runny food at lunch and don't seal the lid back on then your yogurt could end up all over your bag. If your child eats all of his lunch regularly then no worries.
The Splash Box fits perfectly inside the
Blue Water lunch bag
. The bag is made from organic cotton and comes in three designs:
seahorse
,
dolphin
, or
whale
. There is plenty of room for an ice pack and drink container. I also added a fork and cloth napkin (not pictured).
Green lunches = blue waters.
Since this box has a wave design on the lid and it is water day at preschool today, I made a sea life bento.
In this bento: Red grapes with a starfish pick, edamame with a seahorse pick that perfectly matches the lunch bag (what luck!), sand made from rice with black sesame seeds mixed in, and a stingray made from a brown mushroom.
I wanted to make the stingray since stingray bay was my kids' favorite part of the zoo on our recent visit.
Items used today: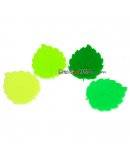 Disclosure
- All product opinions are my own and are based on my own use of the products. All product information is from the
ECOlunchboxes
website. I received free products to do this review.