A little precursor "May the fourth be with you" bento. This one was actually made for my son to eat while his sister was in soccer practice. I also took this opportunity to get another alphabet lunch done (yay! only one letter left). Y most certainly
must
stand for Yoda :) Be sure to check back on Sunday May the 4th for a fun Star Wars themed bento blog hop!
In this bento: Scrabble Cheez-Its (spelling out Yoda), strawberries, yellow, cherry tomatoes, and a cheeseburger (leftover from dinner the night before) revamped with yoda imprinted bread.
The Yoda lunch container was bought at the Target dollar spot last year.
Items used today: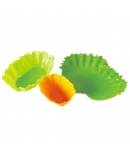 Link up your lunches that use leftovers. For more information about this linky party click
here
.