Matkins
are a placement + napkin combo for on the go eating. Never worry about what is on that picnic table in front of you again. Just throw down your Matkin and you have a clean eating surface at the ready. Matkins come in lots of cute and fun prints for kids. We have been using ours for well over a month now and have had no problems with staining!
The Matkins set comes with a placemat and mini napkin all rolled up and held together with a little bow. The front side of the Matkin (placemat side) is highly resistant to staining and the backside is the cute cotton print. They measure 10 x 14 inches - a perfect size to tuck into backpacks, purses, lunch bags.....pretty much anything! The pocket on the front is designed to hold the mini napkin, however, I quite like it for holding the flatware :) They are machine washable and can be tossed in the dryer as well making clean up easy.
My daughter loves the
Enchanted Forest Matkin
so that is the one I used to inspire lunch today. I made a Cinderella princess themed bento lunch.
In this bento: Cucumber trees, pretzels, black olives, cantaloupe "glass slippers", red grapes, and a princess crown shaped turkey sandwich with a red pepper heart.
Matkins
has offered to give away one of their Matkins sets (placemat + napkin) to a lucky reader. Winner chooses which pattern they would like. This giveaway is open to U.S. & Canadian residents only. Please enter the giveaway widget below and follow the instructions. Entries that do not fulfill the requirements will be deleted. Giveaway ends 5/23/14. Winner will be notified via email and has 48 hours to claim prize.
a Rafflecopter giveaway
Good Luck!
Items used today (affiliate links):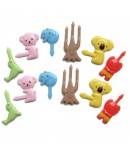 Disclosure
- All product opinions are my own and are based on my own use of the product. All product information is from the
Matkins
website. I received free products in exchange for this review.