Simple thermos lunch with a side of edamame and fruit for today's leftovers on Friday bento lunch.
In this lunch: Tiny star pasta in broth, edamame, strawberries, and cantaloupe balls.
The purple elephant spoon was found in the Target dollar spot and the bento box was sent to me from Japan. :-D
Items used today: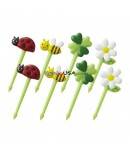 Link up your lunches that use leftovers. For more information about this linky party click
here
.