Skipping down the alphabet quite a bit today. But hey, my alphabet lunches have never gone in "alphabetical order". Tis the season for a W is for witch lunch.
Top left: Witch ham sandwich on top of everything pretzel crisps.
Top right: Cantaloupe balls as mini pumpkins
Bottom: Alphatots spelling "witch". Underneath are grape tomatoes and baby carrots.
This lunch is packed in a
LunchBots Trio.
Items used in this lunch (affiliate links follow)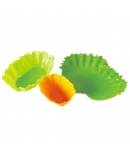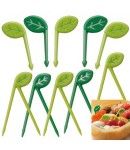 This post is linked up at: