Día de los Muertos or
Day of the Dead
is a Mexican holiday the occurs from 10/31 - 11/2. It is tradition to honor the dead with decorated sugar skulls.
Top right: Leftover mac & cheese with decorative carrot shapes.
Bottom right: Day of the dead skull shaped ham sandwich on top of sugar snap peas and a few pomegranate seeds.
Left side: Cucumbers, mangoes, blackberries, carrots, and pomegranate seeds.
Although the skull sandwiches look good just with the cookie stamp, they would have been much nicer if I had taken the time to decorate with food markers or natural coloring. Alas, I was being a bit lazy!
Here are some other awesome Day of the Dead bentos:
Items used in this lunch: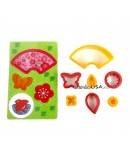 Link up your lunches that use leftovers. For more information about this linky party click
here
.