CuteZcute has new cute bento boxes! The boxes are available in
panda
,
penguin
or
owl
design. I chose the penguin one.....
Look how cute!
It comes with everything you see in the above picture. Two tiers, dome shaped lid, bowl lid, and strap (not pictured). I love that the lid allows extra space for tall items in the top tier!
This bento box is perfect to pair with a thermos lunch! You can use the lid/bowl as a serving dish for your thermos contents. My daughter had this lunch last week, when I picked her up she was still excited about being able to transfer her thermos food into the bowl before eating it. My daughter is only four and figured this out all on her own! We are looking forward to using this bento box along with our thermos frequently during the colder months to come.
Top: Rice and black beans.
Bottom: Kiwi berries, olive penguins with carrot accents, olives, grape tomatoes, baby carrots and cucumber penguins.
One of my friends made these penguins years ago at party and I basically copied those. However, if you are looking for exact details on how to make them you can find them on
Pinterest
. I did swap out the cream cheese for a piece of mozzarella cheese stick. My daughter is very finicky about cheese. She will only eat string cheese or American cheese and even when I pack those there is a 50/50 chance it will return home in her lunchbox.
This particular lunch was a huge hit and every morsel was eaten :-D
I tucked some penguin shaped tortilla pieces on top of the dome lid, under the bowl lid.
We give this bento box two thumbs up! Super cute and functional. Great for a snack, a small child's lunch, or a thermos lunch companion.
Disclosure
- The CuteZcute penguin bento box was sent to me for free to be reviewed on this blog. No further compensation was received.
Items used in this lunch: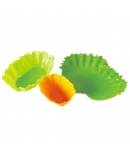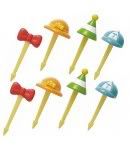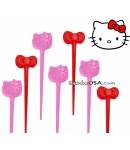 We suffered our first bento casualty this day. The Hello Kitty bow picks did not return from school :-(
This post is linked up at: