I decided this flower garden bento was the perfect opportunity to break in my new natural plant based powder colors from
Chocolate Craft
.
Left side: Edamame, baby carrots, green grapes, and rose shaped watermelon.
Right side: Flower sandwiches (roast beef in one and ham in the other) on top of a few TJ's edamame crackers.
This lunch is packed in our Ugly CC milk lunch box.
Chocolate craft natural coloring is a vegan product and does not contain any artificial ingredients. Yay for a dye free product!!! The powders are made from beets, annatto, spinach, carrots, cabbage, turmeric, and saffron. You can mix the different powders together to make more color combinations. I bought the
assorted powder pack
.
I decided to put them to them head to head with the food markers that I have (the food markers use food coloring). See photo below.
The left flower sandwich was decorated with my food markers and the right flower sandwich was decorated with chocolate craft natural plant based coloring. Notice that the left sandwich has patches of white in the red center. Having non-even coloring really bugs me when using the food markers on bread. Hence, that is why I commonly use my markers on tortillas. This annoyance does not occur with the chocolate craft powder. I simply mixed the desired amount of powder with a couple drops of water and painted it on the flower. Looks nice and even! Also, note at the top of the left flower the bread started to crumble off and stick to the marker.
Due to the natural aspect of the chocolate craft powders, the colors are not exactly dead on. However, if you experiment with mixing the colors together you can get your desired colored. Just takes a little bit of time.
Overall, I am really pleased with this product! It can make your lunch colorful without artificial dyes. That in itself is a win, win!
Items used in this lunch: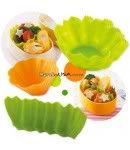 Disclaimer: All product reviews are my own opinion and based on my own personal use and experience with the product. All product information is from the Chocolate Craft website. I received a discount when I purchased this product in exchange for this review.