We have had an unusual amount of rain this summer in northern Arizona. I decided to make a lunch to encourage the weather to be a little drier for the upcoming weekend. This weekend is the county fair and fingers crossed for a little sunshine!
Top: Goldfish, red grapes, and a cucumber umbrella
Bottom: Rainbow made from grape tomatoes, orange and yellow pepper, green chili, and black olives. The rainbow is on top of a leftover bow tie pasta dish.
When I picked my daughter up from preschool on the day she ate this lunch, there was a rainbow in the sky! Perfect <3
Items used in this lunch: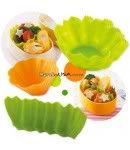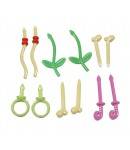 This post is linked up at:
Link up your lunches that use leftovers. For more information about this linky party click
here
.