This week's muffin tin Monday theme is under the sea. When I was done making this lunch it really reminded me of Finding Nemo :-)
Top row: Blueberries, snow peas, corn on the cob.
Bottom row: Corn tortilla and ham whale sandwiches, mango fish, baby carrots, and black olives.
What I used to make this muffin tin meal.
Muffin Tin - Albertsons
Turtle silicone cup. Christmas Tree Shop
Shark cupcake pick. A cake shop
Clown fish and yellow fish pick. Ebay
Red and pink fish picks. Oriental Trading Co
Lettuce cup. Bento USA
Blue silicone prep bowl. Cost Plus World Market
Mini whale cutter. Kitchen Collection
Mini fish cutter. Daiso Japan
Same or similar items found here: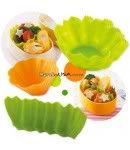 This post is linked up at: