This week's Muffin Tin Monday theme is farm. I live in Arizona and ranches are far more common than the classic farm so I went with a ranch spin :-)
Top row: Pirate's booty lamb wool, chicken mushroom & rice soup in an egg cup, and applesauce in a pig cup.
Bottom row: Horse shaped grilled cheese, Trader Joe's edamame crackers with laughing cow cheese cut into a chow shape, and black olives & baby corn on cowboy picks.
What I used to make this muffin tin meal.
Muffin Tin. Albertsons
Egg shell silicone cup (this is actually and egg poacher) Cost Plus World Market
Horse cookie cutter. Sur La Table
Mini cow cutter. Kitchen Collection
Cowboy picks. Oriental trading co.
Pig silicone cup. Daiso Japan
Chicken spoon. Daiso Japan
Sheep cup.
Bento USA
FooDoodler fine line marker (not pictured)
FooDoodler.com
Same or similar items found here: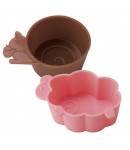 This post is linked up at: