"There was an old woman who lived in a shoe. She had so many children, she didn't know what to do. She gave them some broth, without any bread, whipped them all soundly, and sent them to bed."
Top Row: Clementine, watermelon shoe, orange pepper rings with "too many children" picks.
Bottom Row: ? peanut butter and tortilla sandwich (this represent the question of what to do), star pasta in chicken broth, and a bed made with cucumbers and carrots.
If you have not guessed yet this weeks muffin tin Monday theme is nursery rhymes. I did cheat a little this week. I had all intentions of making this muffin tin for my daughter to eat for lunch today but the truth is it ended up in the muffin tin for staging purposes for the muffin tin Monday linky. We built my son's "big boy" bed today and it ended up being an all day project and basically the muffin tin idea I had must be converted into a lunchbox form for school tomorrow.
Lunchbox version:
Items used in this lunch (these are affiliate links):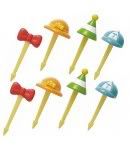 This post is linked up at: