Fun preschool "dip it" lunch with a little pop of fuchsia against the green background.
Top box: Jalapeno cilantro hummus, Trader Joe's roasted plantain chips, and pita bread.
Bottom box: Baby corn, roasted zucchini, black olives, apple slices, and peanut butter in the sauce container for dipping.
What I used to make this bento.
Purple lace silicone cup. Jlist.com
Cake slice silicone cup. Oriental trading co.
Same or similar items found here: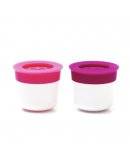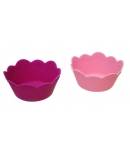 This post is linked up at: