♫ ♪ "Sunny day sweeping the clouds away. On my way to where the air is sweet! Can you tell me how to get, how to get to Sesame Street?" ♫ ♪
Top Right: Oscar the Grouch sandwich made with ham and tortilla. He is on a bed of stinky garbage gold fish.
Bottom Right: Blackberries with a Big Bird pick.
Left: Cucumbers with "Sesame St" carrots.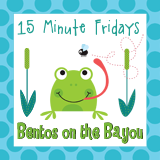 What I used to make this bento.
Alphabet fondant cutters. Michaels
Big Bird cupcake pick. A cake shop
Oscar the Grouch cookie cutter. Williams Sonoma
Same or similar items found here: