My husband likes to torture me by buying fake crab. Bleech! I can't stand it. The kids, however, disagree with me and they gobble it up every time it is offered to them. We happen to have some in the refrigerator right now. My daughter saw it tonight and requested it in her lunch tomorrow. I immediately thought how in the world can I make fake crab work in a lunch?! Then I remembered I had recently been sent
My Fruity Faces
to review. My Fruity Faces are edible stickers that can be placed on vegetables and fruit. Among the samples sent to me was a pack of SpongeBob edible stickers. Yes!
Top: Krabby patty. To make this I placed fake crab pieces in a silicone cup and bun pieces were used on the top and bottom. Bananas
Bottom: Cucumbers and cherry tomatoes.
There will be a review coming soon of this product. I am going to use them a little more before I write it.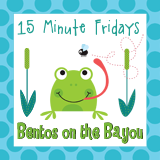 What I used to make this bento.
My Fruity Faces edible stickers.
myfruityfaces.com
Lettuce silicone cup.
Bento USA
Square silicone cup. Daiso Japan
Red silicone cup. Cost Plus World Market
Same or similar items found here: