Today, Oz the Great and Powerful is playing in theaters. The bento bloggers and friends are doing a Wizard of Oz themed blog hop to celebrate. This is day # 2 of the hop. Come along and follow the yellow brick road.....
Left compartment: Orange pepper tornado, cucumber witch riding on an asparagus broom. They are on a bed of leftover white rice mixed with a little corn "debris". To cut the cucumber shape I used my small pumpkin carver. It has been a while since I have used it, but it is a great bento tool! I used the skin of the cucumber to make the witch's clothes and hat.
The witch was resurrected from my Halloween blog hop
post
.
Top right: Blue corn tortilla and turkey sandwich on top of green and black olives.
Bottom right: Blackberries.
Now follow the yellow brick road and hop on over to
Bento Monsters
and see the awesome bento that Ming has created!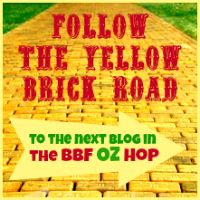 What I used to make this bento.
EasyLunchbox.
EasyLunchboxes.com
Pumpkin carver. Walmart
Witch template.
Silicone prep bowl. Cost Plus World Market
Ruby slipper pick. A cake shop.
Same or similar items found here:
*Due to the blog hop, there is not a leftovers on Friday linky this week. However, I did keep the linky from
last week
open and you can continue to link up there.