Another St. Patrick's Day themed lunch. Today's lunch is a variation of
Monday's lunch
.
In this lunch: Shamrock shaped pita bread, carrot coins (gold coins), jalapeno cilantro hummus in mini heart silicone cups arranged to look like a shamrock, blackberries, strawberries, and a sweet yellow pepper.
Becoming A Bentoholic is going dairy free. This lunch starts the first of the dairy free lunches. My daughter does not really eat that much dairy but she does drink milk. She has switched to a milk alternative. It was suggested to us to try an elimination diet to see if it clears some minor health problems. If dairy is not the problem then we will eliminate another common food allergen from her diet.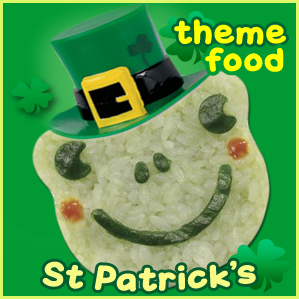 What I used to make this bento.
Crinkle cutter. Pampered Chef
Square and balloon shaped silicone cups. Daiso Japan
Club (or shamrock) cutter. Daiso Japan
Mini heart cup. Kitchen Collection
Happy St. Pat's cupcake pick. A cake shop
Same or similar items found here: