Another fun St. Patrick's Day bento. This one with a Hello Kitty twist!
In this bento lunch: Leftover sweet potato "gold coins", cherry tomatoes, leftover corn, strawberries, and a leprechaun Hello Kitty sandwich made with blue corn tortilla and leftover ham.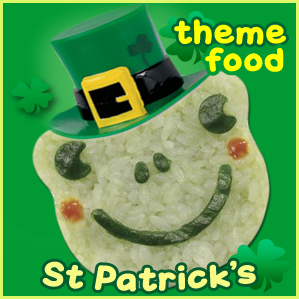 What I used to make this bento.
Hello Kitty bento box. Gift
FooDoodler markers. Sur La Table (can also be found at
foodoodler.com
)
Square crinkle cutter. Sur La Table
Hello Kitty cutter and stamp.
Bento with Yenn
Shamrock cupcake pick. A cake shop
Shamrock bento pick.
Bento USA
Lettuce silicone cup.
Bento USA
Same or similar items found here: