What is the most popular question asked about bentos? How much time does it take to make those lunches. Or, another version is you have way too much time on your hands! So, I set out tonight to answer the question for myself and others. This bento took 13min 52sec. Yes, I timed it. Fun and healthy lunches don't have to take a lot of time.
Top Left: Blackberries and clementine wedges.
Top Right: Sweet pepper rings and egg shaped cucumber slices.
Bottom: Tortilla and ham sandwiches (two sandwiches are made with regular tortilla and the bunny on the left is made with blue corn tortilla) and goldfish.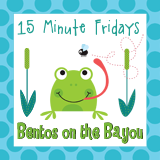 What I used to make this bento.
Deli Club bento box. Marukai
Bunny & flower cutter and stamp set.
Bento USA
Easter egg (sports addition) used to cut the cucumber. Dollar Tree
Egg pick. Dollar Tree
Bunny pick (this is actually a peg piece for a game). Dollar Tree.
Same or similar items found here: