St. Patrick's Day is coming up this Sunday. I will be making a few St Patrick's Day themed lunches this week. Today's lunch is the start of them.
Top section: Applesauce with sprinkles, yellow pepper rings, green olives, and shamrock shaped cucumbers.
Bottom section: Peanut butter and blue corn tortilla shamrock sandwich (cut with a mini heart cookie cutter) and goldfish.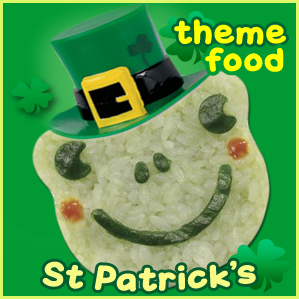 What I used to make this bento.
LunchBots Duo.
LunchBots.com
Lettuce silicone cup.
Bento USA
Mini heart cutter. Sur La Table
Shamrock pick.
Bento USA
Shamrock mini cutter.
Bento USA
Condiment container.
LunchBots.com
Same or similar items found here: