I made a cat in the hat bento in honor of Dr. Seuss's birthday. His birthday is officially on March 2nd but this year it (also know as read across America day) is being celebrated on Friday March 1st.
Left Box: The cat's hat made out of apple slices, blackberries, and pepper rings.
Right Box: Leftover pasta salad (I thought it went well with the theme because of its wonky shape) and the cat in the hat himself draw onto a corn tortilla.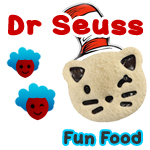 What I used to make this bento.
Cat in the hat box. Target
Paperchase girl box. Target
FooDoodler markers. Sur La Table.
Same or similar items found here: