Do you know what today is? Yes, it is Super Bowl Sunday.....but that's not what I am talking about. Today is also International Fake Mustache Day. The bento bloggers and friends decided to celebrate it the way that we do best...with a blog hop! Click the mustache button to follow along the hop and see every ones creative mustache lunches.
Top Left: Applesauce with candy eyes and a mustache cupcake ring, cucumbers.
Top Right: Cherry tomatoes sporting fake mustaches (these are actually drink markers) and one has a top hat cupcake topper. Also in the compartment are black olives and yellow pepper rings.
Bottom: Strawberries and mustache tortilla sandwiches (one has turkey and the other has peanut butter)
This lunch is packed in my
LunchBots Trio
which has also been adorned with a fake mustache.
Now hop on over to
all things for sale
and see what mustache lunch JeeJee has made.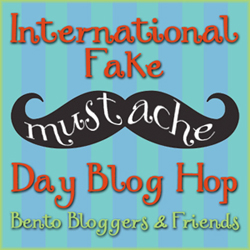 What I used to make this bento.
Fred and Friends mustache sandwich cutter. Black Hound Gallerie
Mustache drink markers (left out of photo) Sur La Table
Top hat and mustache ring. A cake shop
Silicone prep bowl. Cost Plus World Market
Candy eyes. Walmart
FooDoodler marker. Sur La Table
Same or similar items found here: