Yes, you read that right! I am doing a Chick-fil-a bento in honor of the grand opening of the Chick-fil-a restaurant in my town.
Left Box: Chick-fil-a chicken nuggets, green beans, blackberries, strawberries, orange pepper rings, and black olives.
Right Box: Cow sandwich made with tortilla and peanut butter (the decoration was done with my foodoodler marker) and a Chick-fil-a mint.
I love Chick-fil-a and I am very excited that a "real" one has now opened in my town! I say "real" because there is a small Chick-fil-a express at NAU (Northern Arizona University). I was one of the crazy people that packed up the kids and went to the college campus to get my Chick-fil-a fix! Thankfully, I will not have to hike from a far away parking space with two small kids to get there anymore.
This bento was inspired by the Chick-fil-a cow mascot. When we went there last week they were giving the little stuffed cow to kids at the entrance.
There is the cow! I traced around his body to make the cow sandwich.
A behind the scene shot.
What I used to make this bento.
Hello Kitty bento box. Gift
Chick-fil-a cow
Kitchen scissors
Square silicone cup and chicken head shaped cup. Daiso Japan
Chicken picks. Daiso Japan and Marukai
Foodoodler marker. Sur La Table
Linking up to:
Same or similar items found here: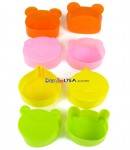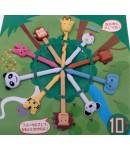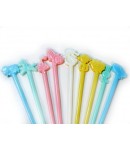 I am currently hosting a lunch punch giveaway- ends 1/28/13. If you have not entered yet click the button below.