Today's lunch is a quick one made with my fun bites cube it and leftovers.
Top Box: Leftover mushroom and olive pizza, leftover sweet potatoes (both cut with the FunBites cube it)
Bottom Box: Clementine orange wedges and leftover sauteed zucchini, brussel sprouts, and onions.
What I used to make this bento.
Paperchase bento box. Target
Heart picks. Daiso Japan
Heart silicone cups. Daiso Japan
Same or similar items found here: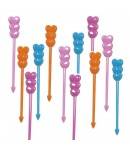 LINKY